January Karma Class
Benefiting Salt & Light Coalition
Sunday January 24, 2021

*100% of the proceeds will be donated to Salt & Light Coalition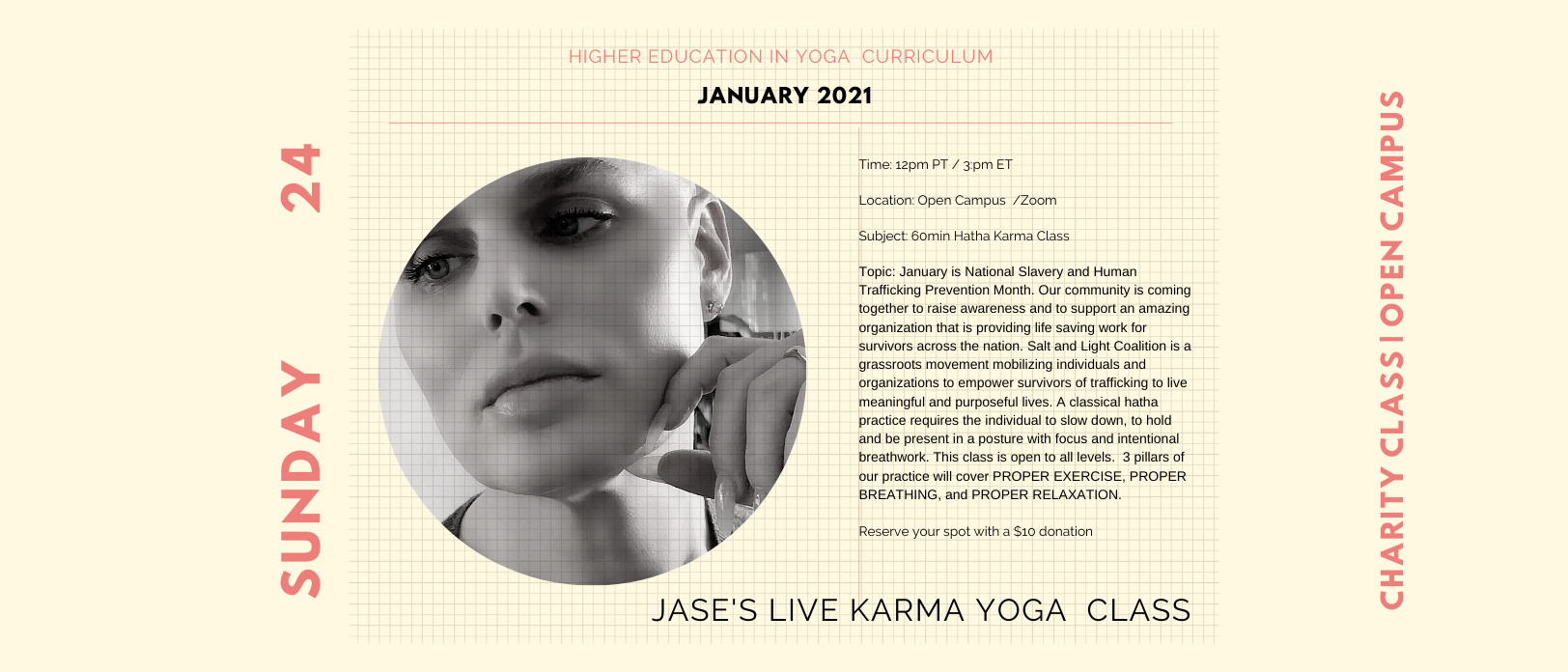 January is National Slavery and Human Trafficking Prevention Month. Our community is coming together to raise awareness and to support an amazing organization that is providing life saving work for survivors across the nation. Salt and Light Coalition is a grassroots movement mobilizing individuals and organizations to empower survivors of trafficking to live meaningful and purposeful lives.
https://saltandlightcoalition.com/our-story
Jase Cannon will lead a classical hatha sixty minute yoga asana practice. Together, we will hold space as we move together and breathe together. A classical hatha practice requires the individual to slow down, to hold and be present in a posture with focus and intentional breathwork. This class is open to all levels. 3 pillars of our practice will cover PROPER EXERCISE, PROPER BREATHING, and PROPER RELAXATION.
Proper exercise: āsanas - Enhances the flexibility of the joints, muscles, tendons and ligaments and stimulates circulation. Flexibility and strength of the spine keep the body youthful.
Proper breathing: prāṇāyāman - Connects the body to the solar plexus, which is considered a storehouse of energy. Stress and depression can be overcome by breathing more deeply with increased awareness.
Proper relaxation: śavāsana - Relieves the body of existing stress symptoms (including muscle tension and breathlessness) and also helps develop resistance against external stress factors. Once body and mind are freed from constant overload they are at ease and perform more efficiently.
Reserve your spot with a $10 donation